Using a combination of the Tellington TTouch®,Connected Riding®, Bemer Vet, red light therapy and other complementary methods, Mandy offers individualized rehabilitation programs for horses coming back from injuries or lay up once they have completed their appropriate veterinarian protocols.
Mindfully and slowly bringing a horse back into work can help to reduce the re-occurrence of the injury and promote a more functional way of going that will reduce the likelihood of any future injury, full stop. Horses that have been on stall rest or horses that have been laid up from work under saddle due to injury, behaviour or circumstance are all excellent candidates for preparatory rehabilitation regimes prior to starting regular work.
Each case is individual and will only be considered once the horse has completed the protocol laid out for it by its veterinarian.
For more information and rates, please contact Mandy.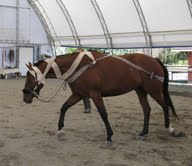 TTouch Body Wraps are an excellent way to promote self-awareness and increase proprioception.
TTouch Body Work is a gentle and non-invasive way of helping horses to release and relax.